26.01.2018
My Life in Danger, says Azad even as UP Govt Orders Extends of NSA Until May 2018
In a shocking order passed on January 23, 2018 –a copy of which is exclusively available with Sabrangindia –the Adityanath government has extended application of the NSA Act on Bheem army chief, Chandrashekhar Azad for a further six months from November 2, 2017. This effectively means that he will be in jail till May 2018. Tragically, this enforced curtailing of personal liberties of a political prisoner happens when he has obtained bail in 27 separate cases lodged against him! In fact, NSA too was slapped on him on November 1, 2017, on the day he had obtained bail in a crucial case from the Allahabad High Court and was about to be released. Azad had obtained regular bail on other charges against him just a few days back in January 2018. To ensure that he does not avail of this freedom, a fresh NSA order, extending the earlier one has been issued.It is clear that the Adityanath government is threatened by this leader and is using repressive state power to keep him behind bars.
A copy of the NSA extension order dated January 23, 2018 may be read here. It has been signed by Vinay Shankar Pandey, Deputy Secretary, Home (Confidential) and a copy also despatched to the Ministry of Home Affairs (MHA), government of India. The order says that 'after consideration of all material on board' and the 'advise of the advisory board (detentions) of the government the period of detention is being extended tentatively.' This means that this could actually be extended, again.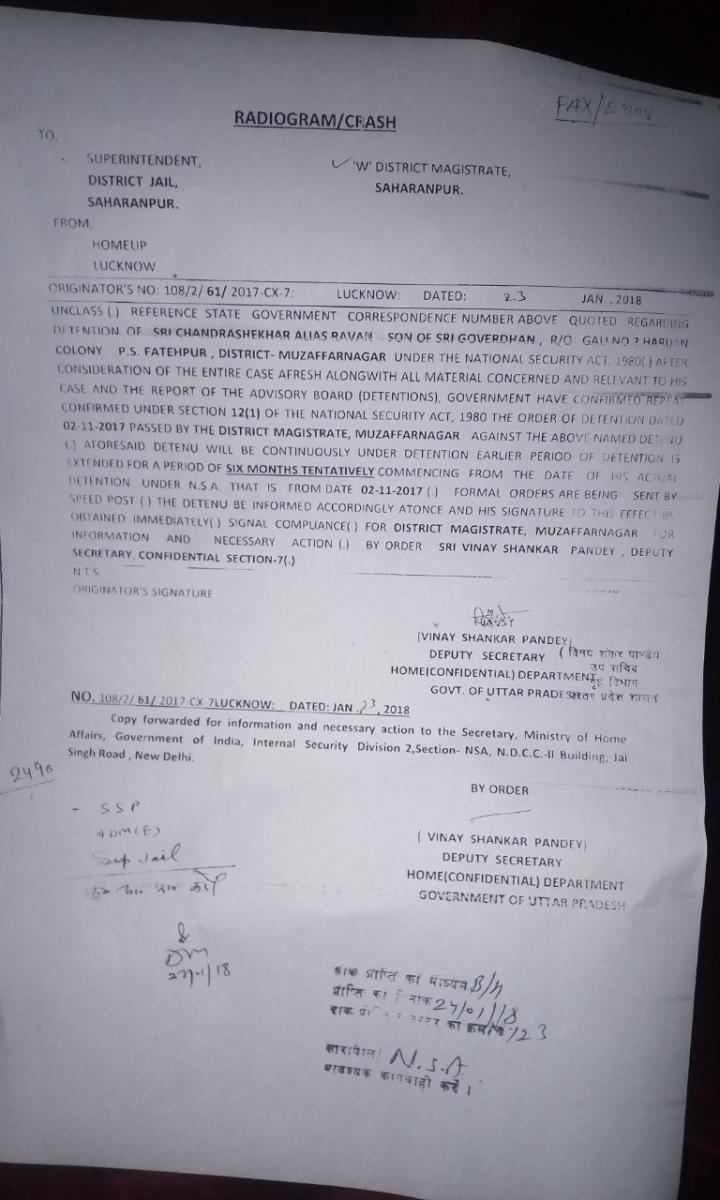 A copy of the Order extending NSA detention on Chandrashekhar Azad, accessed by student leader,  Pradeep Narwal by the Jail Superintendant yesterday
"Are we still a democracy?" Azad asked Pradeep Narwal in despair and frustration, as the latter met him yesterday. "My Life in Danger, I could get killed," Bheem army chief ChandrashekharAzad has told Pradeep Narwal, firebrand student from JNU who quit the RSS-affiliated ABVP on the back of the Modi government's physical assault on the student leaders and the fraternity from February 2015 onwards. Narwal met Azad in the Sahranpur jail yesterday. Narwal is also the Convenor of the Bheem army Defence Committee. Not to be cowed down, however, Azad adds, "Mein siddhanton se samjhauta nahin karoonga. (I will not compromise on principals. "Mein maut pasand karoonga, apne samaaj ka apmaan nahin" (I will prefer death over the insult to my community).
"What have we done wrong? We were organising poor Dalits on Constitutional rights, is that a crime?" The Bheem Army has creditably been working for the education of poor and dis-enfranchised Dalit children, openining 350 schools that were forcibly thereafter shut down in the past nine months. Two such schools are still being valiantly run in Azad's home village of Uttar Pradesh. "I want to know on what charges such a draconian law is being applied," Azad demands.
Incarcerated for the simple and cardinal crime of organising Dalits across Uttar Pradesh, firebrand leader Chandrashekhar Azad will now have to face another four months in custody. What is as depressing as the acts of the Yogi government is the utter silence of 'secular, Dalit parties.' There has been little said on the atatcks by the UP government on the Bheem army either from the Congress, SP, BSP or even the Left parties. Meanwhile, the Adityanath government is busy earming brownie points on how 'fir mly it has dealt with the Karni sena.' Clearly, an articulate and rights conscious Dalit leadership threatens this dispensation more than anything else.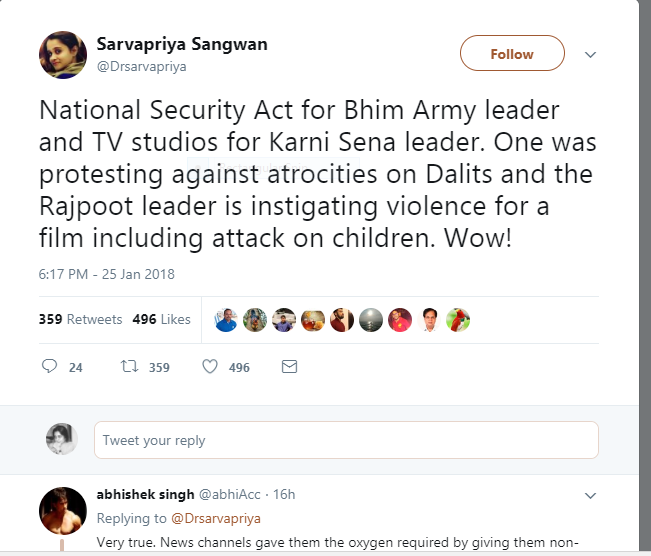 Sabrangindia has been constantly tracking the humiliation and incarceration of the Bheem army leader and his associates.
Background
On May 13, Justice Sawant, Justice Suresh, Justice BG Kolse Patil and others had in a press statement cautioned against the sue of draconian laws like the National security Act (NSA) on members of the Bhim Army including Chandrashekar. On May 5, violence broke out in Saharanpur's  Shabbirpur village after members of the Dalit community objected to loud music during a Thakur-led procession to mark the upcoming birth anniversary of Maharana Pratap. Four days after mob violence against dalits broke out in Rampur and Sahranpur districts, when the police lathi-charged a peaceful gathering  at Gandhi Maidan organised by Bhim Army, this communication was sent. The Dalits claimed that the Thakurs did not get permission from the authorities to hold the event. In the clashes that followed, a Thakur man was killed. Later, around 2000 members from the Thakur community gheraoed the village and burned and ransacked 25 houses belonging to the Dalits. At least 15 people were injured in the violence.
The crowd had gathered there to protest the anti-Dalit violence at Shabbirpur village that took place on the 5th of May, 2017, in which 60 Dalit houses were burnt and attacked by a mob of Rajputs. Several Dalits were also grievously injured in this attack and have been hospitalised. Many have also fled the village out of fear of further violence.
It was in this context that Bhim Army had called for a gathering at Gandhi Maidan where they were demanding compensation for the victims and strict action against the guilty. The police instead started an unprovoked lathi-charge at the gathering, which in turn led to retaliatory violence in parts of Saharanpur city and Rampur town. While the violence that followed the lathi charge was of course condemnable, it is important to note that no one was killed or even seriously injured in this violence. This violence had led to a severe witch-hunt of Bhim Army activists across Saharanpur district and it is has come to our notice that the state government plans to charge the founder of Bhim Army, Chandrashekar, under National Security Act (NSA). There is absolutely nothing in the nature of these protests that warrant such charges against Chandrashekhar or any other activist of Bhim Army. It is evident that Bhim Army is being made a scapegoat in order to deflect attention from the Shabbirpur violence inflicted by the Rajputs.
The Times of India had reported that less than a day after the Allahabad High Court granted bail to Chandrashekhar Azad (November 2017), founder and chief of Dalit organisation Bhim Army, the Saharanpur district administration invoked the stringent National Security Act (NSA) against the leader, under which he will be arrested again after spending almost five months in jail."There are still cases pending against Azad in lower courts in Saharanpur. He faces trial for serious offences in three cases. The process of invoking NSA against him was started soon after his bail plea was submitted in the Allahabad High Court," said Saharanpur district magistrate (DM) PK Pandey.
Azad had earlier been arrested on charges of 'stoking caste violence' in Saharanpur in May. The high court on Thursday had granted him bail in all four cases against him and his associate Kamal Walia. Hearing Azad's bail application, Justice Mukhtar Ahmed had directed that he be released on bail because neither was any specific role assigned to the Bhim Armychief in the FIR nor was it alleged that he possessed any weapon at the time of the violence. Further, the FIR was lodged after a delay of three days.
This video of Chandrashekhar Azad, reveals the clarity and fire behind this young leader.
.
Committee for the Defense of Bhim Army Chief
Even as the state government's repression on Bhim Army had continued, and many of its leaders still in jail and some forced to leave Saharanpur, a committee was formed for the defense of Bhim Army. A group of activists and committed lawyers have been following up the legal struggle practically at their own expense – which at the moment involves getting the arrested activists, including the founder-President Chandrashekhar out of bail as the topmost priority.
On May 21, the Bhim Army organised a spectacular demonstration at Jantar Mantar. Defying attempts by the Uttar Pradesh State administration to hound the organisation, Bhim Army leader, Chandrashekhar, took the battle to the capital. Protesting against the recent caste disturbances in Uttar Pradesh's Saharanpur, hundreds led by the Bhim Army, an organisation fighting for Dalit rights, gathered at Jantar Mantar in Delhi. Members of several Dalit groups gathered at the protest site on Sunday, despite being denied permission by the Delhi Police. More than 50,000 persons had gathered at the protest. Bhim Army founder Chandrashekhar, has been contesting allegedly fabricated charges of the Uttar Pradesh Police for allegedly trying to instigate people. Apart from Azad, Gujarat youth Dalit leader Jignesh Mawani and former JNUSU president Kanhaiya Kumar were among those who joined the protesters, it is reported.
***